Taliban release seized Afghan policemen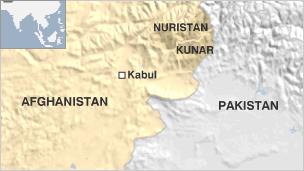 The last of the 40 Afghan policemen, who were abducted by Taliban insurgents last month, have been freed.
The men were kidnapped from Golsalak village, a border area between Kunar and Nuristan provinces in the east.
The policemen were seized when they had gone to the provincial capital, Paroon, to get their salaries.
Ten of them were released the next day while another 10 were freed later. Officials in Kunar said village elders negotiated their release.
The policemen worked in Nuristan police chief's office in Wand district.
Earlier, officials had denied that the seized men were policemen because they feared the Taliban would kill them.
Instead, they said that these men wanted to join the police but were unsuccessful.
The BBC's Bilal Sarwary in Kabul says most of the policemen and the Taliban militants are from the same villages in Kunar and Nuristan.
The Taliban could not have killed these men because they can not risk turning families and tribes against themselves as they often rely on local support in these places, our correspondent adds.