India court grants bail to activist Binayak Sen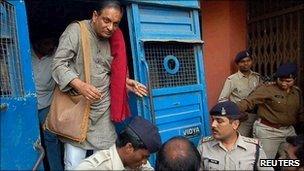 India's Supreme Court has granted bail to leading public health specialist and human rights activist, Dr Binayak Sen.
In December a court in the central state of Chhattisgarh sentenced to life in prison for helping Maoist rebels.
The lower court had found him guilty of carrying messages and setting up bank accounts for the rebels, who are active in large parts of India.
Rights groups in India and abroad had called on the government to free him.
The court in Chhattisgarh found Dr Sen and three others guilty of treason and sedition. Dr Sen, who had been out on bail since May 2009, was arrested.
The Supreme Court gave no reason for granting bail to Dr Sen and left it to the court in Chattisgarh to set the terms and conditions of the bail.
"We are a democratic country. He may be a sympathiser [of Maoists] but it did not make him guilty of sedition," the court said. "He is a sympathiser... nothing beyond that."
Dr Sen was first arrested from Bilaspur town in May 2007 for alleged links with Maoist leader Narayan Sanyal, whom he used to visit in jail.
India's Supreme Court ordered his release on bail two years later.
Dr Sen, a trained paediatrician, says he does not support the Maoists.
A senior member of the local unit of a leading Indian human rights group, the People's Union for Civil Liberties, he worked with tribal people in Chhattisgarh.
Dr Sen was also awarded the prestigious Jonathan Mann Award for Global Health and Human Rights for his services to poor and tribal communities.
His efforts in public health programmes helped to bring down the infant mortality rate in the state and deaths caused by diarrhoea and dehydration, say local doctors.
Dr Sen has been outspoken about the ways in which the government is trying to tackle the Maoists in Chhattisgarh by backing a controversial civil militia of local tribals called Salwa Judum.
He has also expressed his deep concern over rising inequality in India despite the economic boom.
Related Internet Links
The BBC is not responsible for the content of external sites.