Seventeen die in helicopter crash in north-east India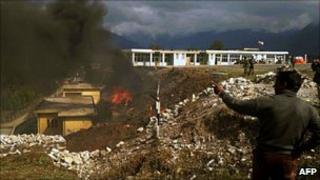 Seventeen people, including two children, have been killed in a helicopter crash in India's north-eastern state of Arunachal Pradesh.
The Mi-17 helicopter was approaching Tawang, in the north-west of the state, when it caught fire and plunged into a gorge on Tuesday.
Six of the 23 passengers, including two crew members, survived the crash with injuries, officials said.
This is the second helicopter crash in Tawang district, which borders China.
Last November, an air force helicopter crashed minutes after take off, killing all the 12 passengers on board.
The Mi-17 helicopter, belonging to Pawan Hans company, was carrying passengers from the city of Guwahati in the neighbouring Assam state, to Tawang.
The 16-year-old helicopter was carrying 18 passengers and five crew members.
"We have rescued six passengers with severe burn injuries and have admitted them to the local hospital," a senior district official told reporters.
The cause of the crash was unclear, though reports said that the Arunachal Pradesh government had raised concerns in the past about two Mi-72 helicopters that were flying to Tawang with a "history of serious technical snags".
Last August, a crew member of a Mi-72 fell out of the helicopter while trying to close a door which had opened during flight.
In February, a helicopter belonging to the Indian army crashed in the western state of Maharashtra, killing its two pilots.