Five arrests in India telecoms scam inquiry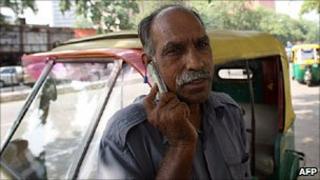 Five company executives in India have been arrested in connection over India's biggest corruption inquiry, the so-called 2G scandal.
Earlier a court rejected their bail pleas and sent them to prison.
India's former telecoms minister Andimuthu Raja has been already held in connection with the scandal.
Mr Raja is accused of selling mobile phone licenses to firms at a fraction of their real value in exchange for bribes in 2008. He denies wrongdoing.
Auditors estimate his actions could have cost the country nearly $40bn (£24.5bn) in lost revenue.
The issue of corruption has become a major talking point in India.
Mr Raja is on trial along with eight others, including two former civil servants.
On Wednesday, a court in Delhi rejected the bail applications of Swan Telecom Director Vinod Goenka and Unitech Wireless Managing Director Sanjay Chandra.
It also refused bail to three top officials of Reliance ADA Group - Gautam Doshi, Surendra Pipara and Hari Nair.
In February, Shahid Balwa became the first company executive to be arrested in connection with the scandal.
Mr Balwa floated Swan Telecom, a firm allegedly favoured during the allocation of mobile phone licences.
The telecoms scandal has badly damaged the reputation of the government, which has been hit by a series of corruption scandals, correspondents say.
Earlier this month, public protests led by an anti-corruption crusader pushed the authorities into beginning proceedings to strengthen India's anti-graft laws.
India has the world's fastest growing mobile market, with about half a billion subscribers.