Stuffed tigers are deployed to protect Bhutan's crops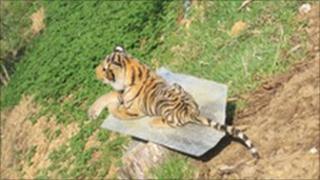 Farmers in the Himalayan kingdom of Bhutan are adopting a novel approach in the age-old battle to keep wildlife off their crops.
They are using stuffed tigers to replace scarecrows, according to Kuensel, the country's main newspaper.
It reports that the "tigercrow" idea has been a resounding success.
The Chinese-made stuffed toys are proving so successful that demand for them among farmers is outstripping supply, the newspaper has reported.
One farmer, Jamtsho, told the paper that the fake tigers had meant that for the first time in years monkeys, wild boars and porcupines were not to be seen on his crop.
"But you should know how to place them," another farmer said, "preferably behind a thin layer of bush or amid twigs to make it more real."
Jamtsho said that before the arrival of the stuffed tigers - which are about the same size as real tigers and cost about $34 - farmers had to construct makeshift huts and stay there overnight in order to guard crops such as maize, rice, wheat and barley.
He said that even if they left the farm briefly, half their yield could be gone.
The success of the stuffed tigers is all the more pleasing to farmers because other measures to deter wild animals from destroying crops - such as fences and schemes to stop wild animals from leaving the jungle - had failed.
"It's no exaggeration but the [stuffed] tiger has eased my life drastically," Jamtsho told Kuensel.