Afghanistan: Jalalabad blast kills three policemen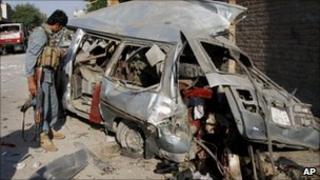 Three policemen have been killed and six others wounded in a bomb explosion in eastern Afghanistan, officials say.
The bomb was planted inside a van which was transporting members of the Afghan National Police in Jalalabad city, Nangarhar province.
The policemen were on their way to work when the blast occurred. The Taliban said they carried out the attack.
Afghan security forces are frequently targeted by insurgents active along the eastern border with Pakistan.
"I was seated here when the van passed by. Suddenly I heard a big bang and dust and smoke covered around my shop and my face," news agency Reuters quoted shopkeeper Anar Gull, who was an eyewitness, as saying.
Jalalabad has seen a series of attacks in recent months.
Last week, five foreign and five Afghan troops were killed in a suicide bombing at an Afghan army base near the city.
The attack was one of the deadliest in months against foreign troops. The Taliban said they carried out that attack too.