Battle for loyalty in lush Afghan valley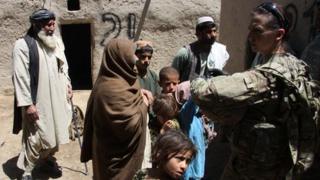 Afghanistan's lush Arghandab valley was the site of fierce fighting between the Taliban and US-led forces. Afterwards the US poured in millions to entice people back. But, as the BBC's Quentin Sommerville found out, they may yet be in a bidding war with the Taliban for the villagers' loyalty.
The final straw for Abdul Hakim was when the Americans bombed his village. Last year he lived for months caught between American guns and Taliban bombs, as his small village of Jeleran became the front line in the fight to control this valley, and to the south, Kandahar city.
Many months later, back in his home, he points to deep cracks within his mud compound walls. All the windows are gone. He says his home was damaged while he was still living there, when the Americans dropped a bomb nearby.
"When they dropped the bomb, people in the village thought that it was too difficult for them to continue living here and we all fled," he said. All 30 families left.
The Taliban moved in during the fighting and thick, deep orchards gave them cover - it was cool enough to sleep in there at night. The Americans' thermal cameras couldn't spy body heat through the thick canopy of pomegranate trees.
Abdul Hakim's house became a place to prepare home-made explosives.
American promises that they would rebuild did little to ease the shock felt across Afghanistan about what happened to that region.
And although more than $7m (£4.6m) have been spent here in the past seven months, privately officers admit they are in a bidding war with the Taliban.
Reviving Jeleran
In the beginning, after the villagers abandoned Jeleran, it was a tough fight on the ground. Captain Walter Tompkins saw half the men from his patrols wounded by the Taliban explosives. On one occasion, to travel 900m outside the patrol base took 11 hours.
In November a patrol attempted to enter a compound. The third man over a wall triggered a bomb buried deep in the ground; he lost his foot. Two more were wounded by IEDs in the same small area. After a fourth was found, the soldiers had had enough.
Helicopters missiles were called in but they stopped short of destroying the entire village, even though it was ringed with IEDs.
"This was a village we wanted to bring back, destroying this village, in this place, wouldn't have been right", said Captain Chastain, who was with the troops that day.
Now $300,000 (£181,247) of US money has been set aside to bring the village back to life, to allow the 30 families who once lived here to return.
Clearing the IEDs was meant to take three days - it took eight. They moved through the houses - 18 were thought to be still habitable, inch by inch, probing with their bayonets and finding more home-made explosives and shells attached to trip wires and pressure plates.
But was the sacrifice worth it, would the people return?
In the first week, no-one came. Then one family returned - they had heard there would be compensation for their missing doors and windows.
Seven families are now back in the village, children are playing on the street. A goat nods lazily under a tree.
Abdul Hakim and his family came back this week - and he is looking for American help.
"They have to give us the money because they have damaged our houses with their bombs and they should pay so that we repair the damage of our houses and live in it," he said.
Taliban bidding war
An American funded cash-for-work scheme is employing hundreds of men throughout the valley, clearing canals and building roads.
But officers paint a mixed picture pointing to a bidding war with the Taliban: "They pay $11(£6.6) to plant an explosive, we pay $6 (£3.6) for a day of work - but we pay six days a week." They move through villages, speaking to locals and handing out cash.
Neither the Americans nor the local population are under any illusions. Both sides know that a financial deal has been struck.
Khair Mohammed is a local elder, respected by the community. The Americans like him too, they want him to become a village leader. But he is reluctant.
"Do you want me to tell you the truth? The truth is that Americans are paying money," he said.
"If Americans stop paying today, I am confidently telling you that nobody will help them tomorrow. They have gathered every individual around them by their money, otherwise no one will come to them even for a minute".
Occasionally the strain shows. Abdul Hakim asks a soldier about his compensation payment, then his elderly mother comes forward, complaining of pain in her hand.
"I know all her aches and pains, tell her it's a bitch getting old," responded a female soldier.
And corruption is a worry. A local builder gave a quote for a wall around the school. The price tag: $100,000 (£60,415). He was told to go away and the wall was eventually built, it cost $7,000 (£4,229).
But there is another concern: in the coming summer, some American troops will return home. Removing troops from the Arghandab would be disastrous, said one officer.
"Look around you, this is the surge, we came here with the surge. If we leave without conditions being set, then this will all be lost."