Sri Lankan ministers in IPL cricket row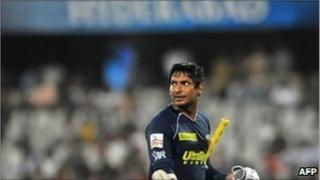 Sri Lanka's former sport minister has denied claims that he made a 10-year-deal allowing the country's cricketers to play in the Indian Premier League.
Gamini Lokuge criticised his successor, current sports minister Mahindananda Aluthgamage, for making the claims.
Last week Mr Aluthgamage ordered the players to return from the IPL by 5 May to prepare for a tour of England, scheduled to start on 26 May.
But later he made a u-turn, saying Mr Lokuge had agreed a deal with India.
"The BCCI [Board of Control for Cricket in India] informed us that there is an agreement with Gamini Lokuge to allow Sri Lankan players to take part in the IPL," Mr Aluthgamage told the BBC.
"I myself found that the former minister has come to such an agreement. Considering that and the close friendship between the BCCI and the Sri Lanka Cricket (SLC) we decided to allow the players to join the team in England on 19 May."
But Mr Lokuge, who held the sports portfolio from Jan 2007 until April 2010, denied those claims, saying Mr Aluthgamage had been "ill-advised".
"No such agreement was signed," he told the BBC's Sinhala service.
Mr Lokuge, who said he had always allowed the players to compete in the IPL, said that Mr Aluthgamage had eventually reached the "proper decision".
The delay means some of Sri Lanka's biggest stars - including Kumar Sangakkara and Mahela Jayawardene - will arrive in England with just a few days to prepare before the first Test match.
There was a similar controversy in 2008 when a tour of England once again clashed with the IPL.
Amid strong protests from the players, the England tour was cancelled and the players were allowed to take part in the IPL.