Four Pakistanis charged by US over 2008 Mumbai attacks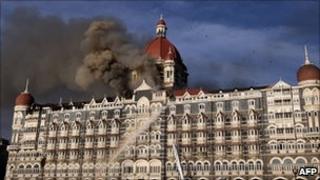 Four Pakistani men have been charged by US prosecutors in connection with the November 2008 attacks on the Indian city of Mumbai (Bombay).
They were each charged with aiding and abetting the murder of US citizens in India. Gunmen killed 165 people in the assault on targets across the city.
One of the men named by prosecutors is alleged to be a Pakistani intelligence officer.
None of the men are in US custody and their whereabouts are unknown.
The US has pursued a case against the Mumbai conspirators ever since the arrest of Pakistani-American David Headley in 2009.
Last year he pleaded guilty to surveying hotels in Mumbai and other targets ahead of the attacks and he has agreed to help investigators with their inquiries.
The conspirators named on Tuesday are:
Sajid Mir, described as a "handler" in the banned Islamist group Lashkar-e-Taiba (LeT)
Mazhar Iqbal, a LeT "commander"
Abu Qahafa, who allegedly trained the attackers in combat for LeT
Major Iqbal who allegedly "participated in planning and funding attacks"
Correspondents say that news of the charges against the four is significant, because one of those indicted, named as Major Iqbal, is alleged to be a Pakistani intelligence officer who was Mr Headley's "handler".
The alleged involvement of Pakistani intelligence in connection with the attacks will only further strain ties with the US, correspondents say.
In December, Pakistani PM Yousuf Raza Gilani said that Inter-Services Intelligence (ISI) chief General Ahmed Shuja Pasha would be protected from appearing in a US court following a summons issued against him.