Huge crowds due for Indian guru Sai Baba's funeral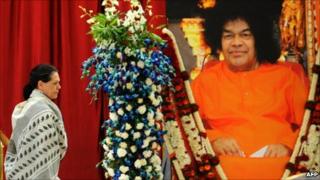 Indian PM Manmohan Singh and Congress leader Sonia Gandhi have been among thousands of mourners paying their respects to guru Sri Satya Sai Baba.
A one-mile (1.6km) line of people queued for hours in the blistering afternoon sunshine on Tuesday to pass his coffin.
They were visiting the ashram - or spiritual centre - in Puttaparti, the southern town where the guru was born.
Sai Baba will be buried - rather than cremated - at his funeral on Wednesday.
This is normally the custom for people who Hindus regard as esteemed holy men.
The prime minister sat cross-legged next to the corpse, which has been on display in a transparent casket. Many devotees saw Sai Baba as a living god.
Huge numbers of Indians and foreigners, among them cricket star Sachin Tendulkar, have bade a final farewell to the guru since he died of multiple organ failure on Sunday aged 85.
Mr Singh, a Sikh, described the guru as "an inspiration to people of all faiths".
He was accompanied to Sai Baba's ashram by Mrs Gandhi.
Sai Baba's followers believe he had magical abilities to produce objects out of thin air, visit people in their dreams, perform miracles and cure terminal illnesses.
But his critics say that many of these activities were publicity stunts. They say that he was a persuasive fraudster who used his huge popularity to avoid being investigated over allegations of murky financial practices and sexual abuse.
These charges were always strenuously denied by the guru and his followers and never proved.
His popularity remained undimmed throughout his life - Sai Baba had ashrams in 126 countries and also ran a network of hospitals, clinics and schools that were often free.