India to tighten nuclear safeguards at Jaitapur plant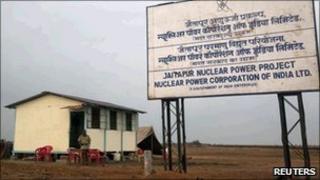 India has pledged to put in extra safeguards at a proposed nuclear power plant in western India after recent violent protests against the plan.
Activists say the $10bn (£6bn) plant in Maharashtra is located in a region prone to earthquakes and fear a repeat of Japan's Fukushima disaster.
Local villagers also fear the plant will ruin their traditional fisheries.
India has also decided to set up an independent nuclear watchdog to oversee its existing nuclear reactors.
Earlier this month, one person died and at least 20 people were injured in violent protests following a strike called by the Hindu nationalist Shiv Sena opposition party against the plant in Jaitapur.
Construction of the 9,900 megawatt, six-reactor facility, which is being built with technical help from the French energy giant Areva, is due to begin this year.
The government held a meeting attended by Prime Minister Manmohan Singh and decided to go ahead with the nuclear power plant.
"The government is satisfied with the safety aspects of the Jaitapur nuclear plant," V Narayanswamy, a minister in the prime minister's office, said.
The government also decided to increase the compensation already paid to villagers whose land has been acquired for the plant, and step up talks with them to assure them of the safety of the plant.
"We have made detailed presentations on Jaitapur to all political parties. The political dialogue will continue and special efforts will be made to convince people that safety will not be compromised," Prithviraj Chavan, chief minister of Maharashtra, said.
Mr Chavan said that the protests at Jaitapur were "politically motivated" and accused "outsiders" for instigating the locals against the plant.
Environmental experts say that Konkan, the region in which Jaitapur lies, is one of the most biodiverse regions on earth. They claim it will be destroyed by the plant.
Others have expressed concern that the facility is being built in a seismically-active area.