Hundreds of Air India pilots strike over pay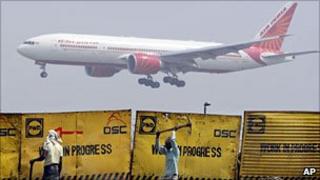 About 800 pilots who used to work for Indian Airlines but now work for Air India have gone on strike to demand parity of pay and better conditions.
Their industrial action has led to the cancellation of at least 24 flights and delays to many others.
The striking pilots say they are being victimised because their Air India colleagues earn up to 200,000 rupees ($4,500) more a month than them.
The Delhi High Court on Wednesday ordered the strikers to return to work.
But despite the order, the pilots say they will carry on with their protest.
Indian Airlines merged with Air India in 2007 and since then its pilots have frequently complained about their poor conditions of employment.
The Air India management says it no longer recognises the Indian Commercial Pilots' Association (ICPA) - to which many of the striking pilots belong.
The company described the ICPA action as "illegal, unfortunate and most irresponsible".
"Are they working towards Air India's extinction?" a senior official asked.
He said the company had overcome its recent financial struggles and had managed to secure many domestic bookings for the summer holidays.
"Clearly the ICPA has no concern for the great inconvenience their action would cause to the travelling passengers and guests," the official said.
"The ICPA decision is most ill-timed as the company is bleeding and facing closure."
The airline says it has drafted in "executive pilots" to operate flights hit by the strike. It said it had sacked six union leaders on Wednesday, while two others had been suspended.
The ICPA says Air India pilots enjoy a large fixed salary component, whereas the salaries of former Indian Airlines pilots is "almost minuscule" in comparison.
They say that the plight of these pilots has been made worse because many are paid according to the number of hours they fly - yet the airline has curtailed the overall number of flights by 30%-40% in recent months.
Air India has operated 192 flights since the strike began on Wednesday morning - it usually operates 320 flights over a 24-hour period.