India police charge five-year-old boy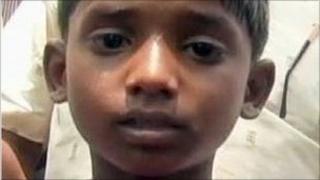 A five-year-old boy in the Indian state of Bihar has been charged with "disrupting the peace" during recent village council elections.
Suryakant Paswan had to pay 20,000 rupees ($437; £266) for bail and has had to report daily to police in the town of Dhibra for the past week.
Correspondents say his arrest has caused outrage in the area.
Police say it was a case of "mistaken identity" and they meant to charge his elder brother with disorderly conduct.
They say they wrote his name down by mistake.
"The police wanted to charge Srikant Paswan, his elder brother. But, by mistake they wrote Suryakant's name," police officer Ashgar Imam said.
He added that police had submitted an application to the court for correcting the name.
Suryakant, a resident of Kolhaura village in Aurangabad district, is a first-grade student at the village government school.
"A case has been filed against me and that is why I am here," Suryakant told a local news channel.
His father has had to accompany him into town to report to the police station every day.
"It's a serious violation of child rights," said one Patna high court criminal lawyer, Mukesh Kant.
The incident only came to light in Indian media on Friday.
Suryakant was charged under section 107 in Indian law, which has been invoked against more than 300,000 people in the state during the ongoing village council elections.
Police said more than 16,000 people have been arrested to ensure the polls pass off peacefully.