India: 'Maoist' landmine attack kills six people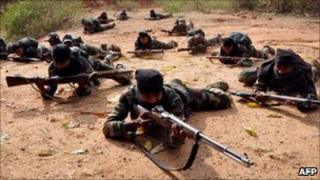 At least six people on their way to a wedding party have been killed when their vehicle hit a landmine in India's western Maharashtra state, police say.
Police suspect that the landmine blast in Gadchiroli district on Thursday was set off by Maoist rebels.
Four other passengers were injured in the blast.
The police is investigating whether the rebels, who are active in the area, had mistaken the vehicle for one carrying policemen in civilian clothing.
The wedding party was on its way from the neighbouring state of Chhatisgarh to Chandrapur in Maharashtra when it was attacked, police said.
Active in several states, including Maharashtra, Maoists say they are fighting for the rights of indigenous tribespeople and the rural poor.
India's prime minister has described the Maoist insurgency as the country's biggest internal security challenge.