The 'killing fields' of Kashmir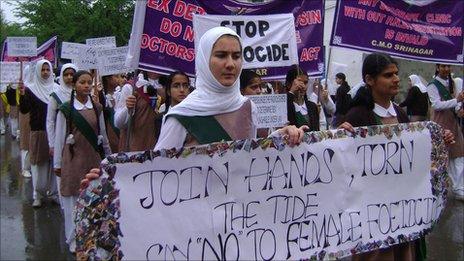 Until recently, Indian-administered Kashmir was thought to be a good place for a girl to be born. Not any more. The BBC's Geeta Pandey reports from Srinagar.
The Kashmir Valley, which has been in the grip of an armed insurgency against Indian rule for the past two decades, has now turned on its girls, killing them ruthlessly, in most cases even before they are born.
Four years ago Gul Afroz Jan, who teaches law at Kashmir University, first raised the alarm that female foeticide was rampant in the Muslim-majority valley. She was ridiculed.
She had done a study for which she interviewed 100 pregnant women and 10 of them told her that they had gone for sex selective abortions.
"In a patriarchal male-dominated society like ours, preference for a male child is in our psyche," she said as we sat talking in the law faculty of the university's sprawling campus.
"A son perpetuates our family name and line while a girl is thought to be a burden, to be married with a huge dowry."
Ms Jan says now the growing middle-class families are also adopting the two-child norm and as they go for smaller families, female foeticide is often used to limit the size of the family.
"And technological advancement [sex determination tests] has ensured that thousands of girls are denied their right to be born," she says.
"I told the authorities that in the near future, you'll have cause to worry about something other than militancy," she says.
"Everyone was outraged. They said, we are Muslims, we don't do it, this is not prevalent in our society.
"The authorities too went into denial mode. They said my sample size was too small. They insisted that Kashmir had a healthy child sex ratio.
"They criticised me so much that I was beset with self-doubt, I was wondering if I had got it all wrong."
But when preliminary figures, released last month, showed that Jammu and Kashmir had registered the worst decline in the child sex ratio of any state in the 2011 Indian census, Ms Jan's worst fears came true.
In 2001, for every 1,000 boys under seven in the state, there were 941 girls. Now the number is down to 859. No other Indian state has fared so badly over the past decade.
The mostly-Hindu Jammu region, which shares a boundary with the state of Punjab in the south, had a low child sex ratio even in 2001. But the valley was different and most of its areas had many more girls under seven than boys.
The latest census shows the steepest decline in districts in the valley and the administration is struggling to explain it.
"The decline in Kashmir is much worse than Jammu which is tough to understand. We need people to wake up to the long-term implications for Jammu and Kashmir," Chief Minister Omar Abdullah said.
He described it as an "alarming position".
Dr Saleem-ur Rehman, director of health services for Kashmir Valley, says: "The 2001 census figures were good so we thought we were doing really well and we all became a little complacent."
"I don't want to be in denial mode. I admit something was happening. And we are doing our best, what best we can do, to change the situation," he says.
On Dr Rehman's order, 100 ultrasound clinics have been sealed in the valley. Action has been taken against centres in Srinagar, Budgam, Baramulla, Ganderbal, Kulgam and Kupwara. Many more have been sent notices and are in the process of being raided and sealed.
Any clinic which is not registered, or one that has not submitted the mandatory Form F (which has to be filled for each pregnant mother that visits the clinic), or a clinic that submits incomplete forms has been shut down.
"Some of them are big names, but they are doing very bad work. We know they are definitely doing sex determination tests. I will not allow medical technology to be part of this menace," he says.
Dr Rehman says his job is made difficult by the fact that he can never have definite proof.
"The person who gets the sex selection done - like the pregnant mother, her husband or her mother-in-law - will never reveal anything. Nor will the person who does it, because he's getting paid for it and he knows it's illegal. So we can only have circumstantial evidence."
And of that, he says, he has plenty. In medical circles, he says, word gets around, and doctors who do sex selection tests or reveal the gender of foetus to parents develop a reputation.
But technology is only the supply side of this business. Activists say until the demand side - the overwhelming desire for the male child - is tackled, the problem cannot be wished away.
And that is an issue much trickier to address. The authorities are now calling for social and religious leaders to intervene.
Schools are being roped in to help spread awareness about the evils of female foeticide.
On a cool wet morning in Srinagar, nearly 200 schoolgirls march through the streets, watched by gun-wielding security forces.
Many of the children carry banners and placards and many shout slogans. They exhort passers-by to "Stop genocide" and "Save the girl child".
The rain does little to dampen the students' enthusiasm. Soon, they are soaked to the skin and their paper placards are soggy, but the campaign seems to have given them some food for thought.
Manpreet, 15, says: "It's our duty to fight for the right of the girl child. It's really bad that a woman is killing her own daughter."
Campaigner Sabu George recently attended a meeting in Srinagar to discuss the issue. "At least in Kashmir the authorities are recognising that there is a problem. That is a very crucial first step in dealing with it."
He says he had no doubts about the popularity of foetal sex determination in Kashmir.
"On my earlier trips, women used to tell me it was very common, doctors told us that there were more than 100 clinics in Srinagar alone, so we expected the slide. But it's our worst fears come true."
Shaukat Hussain Keng, who teaches Islamic studies at the Oriental College of Srinagar, says by killing the girl child, "we are moving away from humanity".
"In the Arab world, people used to bury alive their daughters but when the Prophet Mohammed came, he put an end to this barbaric practice. He told Muslims to value their daughters. Now, we have gone back to the pre-Prophet era."
The "moral degradation of the society and the practice of dowry have come together to turn man into a murderer of his own daughter", he says. "It's a grave sin."
Recently the state's former chief minister Farooq Abdullah said if female foeticide was not stopped urgently, men in India would turn gay.
He said it half-jokingly, but saving baby girls is not going to be a laughing matter.
Related Internet Links
The BBC is not responsible for the content of external sites.