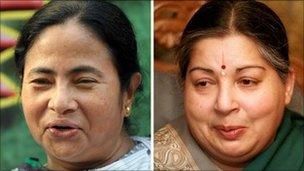 Is India now living on woman power?
The most powerful Indian is a woman - Sonia Gandhi, chief of the ruling Congress party. India's President is a woman. The speaker of the parliament and the leader of the opposition are women.
Mayawati, a Dalit (untouchable) woman rules India's most populous and politically crucial state of Uttar Pradesh. The urbane Sheila Dikshit rules the capital, Delhi. And last week, Mamata Banerjee created history by overthrowing a over three-decade long Communist government in Bengal to take charge of the state. Together, these three formidable women rule directly over a third of India's people.
Most of these women are influential politicians in their own right, and Ms Banerjee and Mayawati belong to the fast vanishing tribe of mass leaders.
Certainly, many of these women are beneficiaries of family patronage and male mentors. Ms Gandhi took over the party as a privileged dynast. Mayawati and Jayalalitha were anointed successors by their mentors, one a leader of the untouchables, and the other a film-star. Ms Dikshit belongs to a well-connected political family. Only Ms Banerjee has earned her spurs as a rebel who emerged victorious after a decade of gritty street-fighting politics.
However, most of these leaders have carved out their own identities and styles of functioning, however controversial they may be. Mayawati, with her penchant for diamonds, flashy birthday celebrations and statues, has managed to steer her Bahujan Samaj Party to become a formidable political force, seeking to give dignity of millions of untouchables. Jayalalitha led much-acclaimed rehabilitation work after the 2005 tsunami hit Tamil Nadu. Ms Dixit has won three consecutive terms in Delhi, thanks to her development work.
But Indira Gandhi, the subcontinent's most powerful woman politician ever, was once described as a "dumb-doll" by a group of male Congress figures who thrust her to the political centre-stage, confident that they could control her.
Ms Banerjee has been physically attacked by Communist party workers in the past, and described as "that woman" by its leaders. Last month, a Communist MP was forced to apologise after he publicly called her a "loose woman" who was interested in "bigger clients like the USA". Most parties are deeply chauvinist - for all the glib talk of gender equality, the Communist Party of India (Marxist) has no female leader of any standing. India also doesn't have a single Muslim female leader, and the matriarchal states of the north-east are all ruled by rather unremarkable men.
Women comprise nearly half of India's population, but their lot needs to improve. India's sex ratio remains scandalously skewed. Sex selective abortions, female infanticide and foeticide are rife in northern states. Men remain major beneficiaries of government schemes, a lot of women still die during childbirth - though the record is improving, and more girls drop out of school than boys.
The political empowerment of women is a remarkable achievement in this context. Many believe that the presence of so many women in powerful positions in politics is a quirk. I don't agree.
Indira Gandhi's ascendancy through the Congress party to become India's most powerful and controversial leader was an an exception in South Asia those days, but things have changed.
Female literacy is improving, triggering aspirations in a booming economy. Reservation of seats in village councils and municipalities has been seen as a fillip for women. In many unprogressive northern states like Haryana, spouses and male relatives still keep their female leaders indoors and run proxies, but in large parts of India, the political empowerment of women has been genuine.
How much of a real change will Ms Banerjee and her sorority bring for the people of India? It has not been a very inspiring record till now - Ms Mayawati seems to have belied a lot of expectations in the way she runs Uttar Pradesh, and Ms Dixit's record has been marred by shoddy infrastructure work for last year's Commonwealth Games. There is still no evidence that women politicians are less corrupt than their male counterparts. "To suggest that women in power will be less corrupt is fatuous, and contrary to all prevalent evidence," says journalist-writer MJ Akbar.
Historian Ramachandra Guha says the rise of women in powerful political roles does not mark a "new age" of gender equality. The reasons for their rise, he says, may be personal (their courage and drive) or historical (the impact of a generations of reformers) or political (universal adult franchise). Whatever the reason is and whatever its consequences, he says, the phenomenon is noteworthy.
PS: On second thoughts, is India's neighbour Bangladesh also in a grip of women power? The two most powerful politicians in the country are women and one, Hasina Wazed, is in power. Five of her top ministers are women too!