Bangladesh truth commission is declared 'illegal'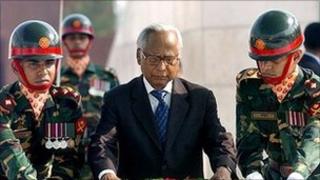 The Bangladeshi Supreme Court has upheld a ruling by a lower court which declared the Truth and Accountability Commission, set up in 2008, illegal.
The panel was set up by the military-backed caretaker government to offer partial amnesties in return for information about corruption.
The High Court declared the commission illegal and unconstitutional.
The Supreme Court ruling makes clear that those facing charges should be dealt with according to the law.
It said that they cannot be given an amnesty.
The army-backed interim government set up the Truth and Accountability Commission in 2008 to offer a partial amnesty in return for information about corrupt deals and the refunding of dishonestly-acquired money.
The idea was to clear a massive backlog of corruption cases.
A number of people came forward to confess their guilt and deposited money in the treasury.
But the measure was declared illegal by the High Court in 2008. It said that there was no provision in the constitution to offer an amnesty to individuals accused of corruption.
Transparency International spokesman Iftikhar Zaman welcomed Monday's ruling, arguing that short-term measures like amnesties will not help to tackle the corruption problem.
"Challenging corruption in Bangladesh cannot be done overnight," he said.
"The real challenge for the government is to allow the institutions and laws of the country to take their own course.
"That is especially the case with institutions like the Anti-corruption Commission which has to be allowed to function independently and effectively so that those who are accused of corruption face justice."
Bangladesh is considered to be one of the most corrupt nations in the world. Successive governments have tried to tackle it by introducing new laws and by establishing anti-corruption commissions.
But campaigners say unless there is a strong political will and public awareness, corruption will continue to blight the country's progress.