Sri Lanka urged to scrap emergency two years after war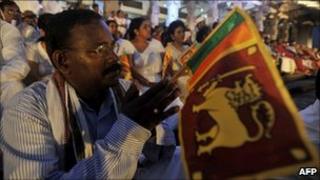 India has urged Sri Lanka to scrap far-reaching emergency powers and probe allegations of human rights violations.
The emergency remains two years after the government's military defeat of the Tamil Tigers on 18 May 2009.
The Indian call came in a bilateral communique issued after talks in Delhi between the two countries' foreign ministers, SM Krishna and GL Peiris.
It is an unusually frank message to the island nation from its closest international ally.
The statement quotes the Indian side as saying that Colombo should ensure the resettlement of all internally displaced people and promote "genuine reconciliation".
Mr Krishna's remarks were described as a response to the Sri Lankan foreign minister after he said that Colombo was taking a focused approach to both resettlement and reconciliation.
India's central government has not commented publicly on a recent UN-commissioned report, in which a panel of experts said there was credible evidence that both sides in the Sri Lankan war may have committed war crimes.
But Indian regional politicians have been more outspoken.
The newly-elected chief minister of the southern state of Tamil Nadu, J Jayalalitha, said last week that in the light of the report, India should declare the Sri Lankan president a "war criminal".
Sri Lanka's leadership vehemently denies such violations and Indian reports said Colombo had even congratulated Ms Jayalalitha on her election.
Relief
Two years on from the end of the long and bloody conflict, most Sri Lankans still feel a sense of relief that there is no more fighting, and that the Tamil Tiger bomb attacks which used to rock towns and cities, including the capital, no longer take place.
Yet there is some ambivalence about the kind of post-war country that is emerging.
President Mahinda Rajapaksa, a Sinhalese nationalist who has pushed through constitutional changes to strengthen his powers, has great charm and enjoys huge popularity among many, specially those of this own ethnic group.
But many Sri Lankans feel that he has failed to reach out to the ethnic minorities and that his government promotes a militaristic triumphalism which glorifies the army and neglects civilians displaced or wounded in the war.
The government's critics say that fear of reprisals prevents many people from speaking against the authorities on a whole range of issues.
A government minister, Dinesh Gunawardena, told the BBC the two-year anniversary would feature memorial ceremonies for "those who have fought in the victorious, historic event of defeating terrorism".
A major military victory parade has been delayed until 27 May because of current celebrations for the 2600th anniversary of the Enlightenment of Lord Buddha.