Tourists shun town after Bin Laden raid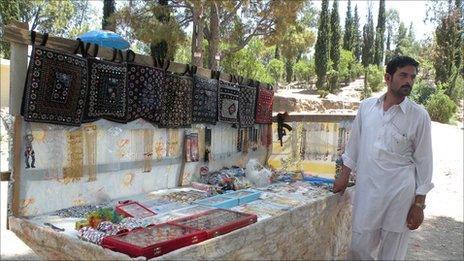 Since the killing of al-Qaeda chief Osama Bin Laden in the quiet Pakistani hill resort of Abbottabad, tourism to the picturesque town has declined dramatically. The BBC's M Ilyas Khan finds out how businesses are coping.
Small groups of tourists make the best of a lacklustre day at the 9,000-foot high Thandiani resort, overlooking Abbottabad.
They complain about the lack of facilities at a handful of restaurants which have just been dusted off for the season after an eight-month winter closure.
"There is no water in the bathrooms, no water to wash hands even, and they have only a limited menu," says one tourist.
Restaurant owners are worried about their economies of scale.
"There aren't enough tourists to justify expenses. We normally stock up at the start of the season, but the killing of Osama Bin Laden has upset our plans," says a restaurant manager.
The US killed Osama Bin Laden in a covert operation in Abbottabad on 2 May, at the start of the local tourist season that normally lasts until early September.
The killing has led to a steady trickle of visitors hoping to catch a glimpse of the compound. But Bin Laden's death has dented Abbottabad's image as one of the few remaining tourist destinations for local Pakistani visitors.
It is a pattern repeated throughout the north-west of the country. Pakistani militancy has ensured the Western trekkers who used to flock to this region have been put off by security fears.
And it has put the town's thriving tourism-related trading activities under a pall of gloom.
"As soon as the Osama killing unfolded, we immediately felt the impact," says Naeem Awan, the head of a local district-wide traders' association.
"Half of our annual earnings come from these four months. But since Osama's death, the only people coming into town are like yourself - looking for news. We want tourists, but they are not coming."
The impact is most obvious on hotels and restaurants.
"By mid-May our room occupancy used to touch the 50% mark, but this time around it is less than 20%, and we are afraid it will fall further," says Bobby Joseph, who manages the Sarban hotel, one of about half-a-dozen three-star hotels in town.
Abbottabad serves as a transit station for three of the major tourist destinations in Pakistan -- Thandiani, Nathiagali and the Kaghan valley.
It is also a transit-town for long distance tourists intending to travel to the Gilgit-Baltistan region.
Mr Joseph, quoting statistics from the local hotel association, says an average of 500 tourists pass through Abbottabad every day during the four-month season.
A dry season in Abbottabad means hard times for thousands of small businesses, such as restaurants, hotels and guesthouses, bakeries and mobile vendors in all these regions and along the connecting routes, he says.
Several large establishments within Abbottabad are also threatened.
Aqeel Qureshi left a secure job in Islamabad to join a team that launched an Indian food chain, The Nawab's Restaurant, in Abbottabad two years ago. Last season they did thriving business.
"We would come to work at 10am and finish anywhere between 2am and 4am the next morning. It was tiring, but we loved it. Everybody got a fat bonus."
This year the crowds show no signs of appearing.
"The owners are thinking whether it is wise to keep investing in a business that may go down, and workers are worried where else they could find a job in a shrinking market."
The fear is rooted in perceptions that the Bin Laden episode may have a long-lasting impact on Abbottabad.
Many look at the fate of Swat, a tourist haven in the vicinity that was once more popular but taken over by Taliban militants some four years ago.
A subsequent military operation effectively converted it into a combat zone from which it is yet to recover.
They think Abbottabad is now in the eye of the storm.
"People are afraid that there may be another incident; another al-Qaeda leader holed up in Abbottabad, or a reprisal attack by militants against military targets here. No holiday maker would want to be caught up in a mess," says Mr Joseph.
Amid gloomy prospects, a lone vendor of handicrafts keeps vigil at Abbottabad's Shimla Hills picnic site. There are few picnickers in sight.
"I moved here several years ago from Swat, where business had gone down due to the Taliban," he says.
"Now if business goes bad here as well, I'll have to move somewhere else; may be to Nathiagali, which has alternative access routes away from Abbottabad.
"Some of my fellow vendors have already moved there or elsewhere."