Sri Lanka to hold militancy summit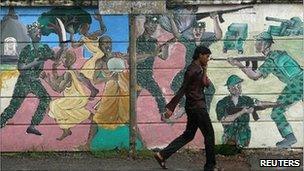 Delegates from 42 countries will visit Sri Lanka next week to learn from the country's experience in defeating militancy, the army says.
They are to attend a special three-day seminar entitled: "Defeating terrorism - Sri Lankan experience".
But the conference has run into controversy because of allegations of widespread civilian deaths during the 2009 defeat of Tamil Tiger rebels.
Human Rights Watch says foreign governments should not attend.
Sri Lanka's army chief, Lt Gen Jagath Jayasuriya, says Russia is sending six military delegates to this seminar - the highest number - while India is sending three; Pakistan, Bangladesh, Australia and Brazil are among the others who will attend, he said.
The UK, France, Japan and the Netherlands were among 10 countries to decline invitations.
The sponsors of the three-day seminar include two Chinese military manufacturers who will also be exhibiting their goods.
Most of the speakers are Sri Lankan officers and ministers; they also include an American and a former senior counter-insurgency advisor to General David Petraeus in Iraq, David Kilcullen.
The government and military here portray their defeat of the Tigers as a source of pride and a model for others to follow.
They say Sri Lanka is the "only country to defeat terrorism" and that the army rescued hundreds of thousands of civilians, inflicting minimum civilian casualties.
Others, however, say Sri Lanka should be seen as anything other than a model.
The New York-based campaign group Human Rights Watch said governments should decline to attend the conference which - it said - "seeks to legitimise the unlawful killing of thousands of civilians".
It said the event was an exercise in whitewash which "no professional, law-abiding military" should attend.
The lobby group's comments came a month after a report commissioned by the UN said there was credible evidence that both sides may have committed war crimes: the Tigers, for instance, by shooting escaping civilians, and the government, for example, by shelling hospitals.
Asked about that report, the army chief said its contents were merely "hearsay" and there was nothing in it worthy of countering.