Sri Lanka President Rajapaksa defends military's role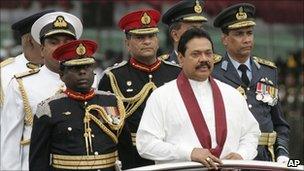 Sri Lankan President Mahinda Rajapaksa has defended the conduct of the military during fighting at the end of the country's protracted civil war.
He was speaking at a huge military festival in Colombo to mark the two-year anniversary of the government's defeat of the Tamil Tiger rebels.
A UN panel of experts recently accused both sides of war crimes during the last days of the conflict in 2009.
The president rejected calls for an independent international inquiry.
The BBC's Charles Haviland in Colombo said that it was a defiant speech from a president who still garners great public support from the war victory.
Thousands of military personnel took part in a march-past and military hardware display, in a now regular ritual.
Our correspondent says that the focus of the commemorations remained very much on the soldiers who died in the war rather than the civilians.
President Rajapaksa did not refer directly to the UN-commissioned report, but said that his forces followed international human rights law as they fought the rebels.
"Our forces carried the firearm in one hand and the human rights charter in the other. Our forces never harboured hatred towards any community or individual," he said.
"Looking at how other countries fight wars, we are proud of the humanitarian nature of our operation.
"Therefore, when we see how some countries carry out operations against enemies today, we are proud."
The president told his troops he would stand by them.
"We were with you in the battlefield. It is same today," he said. "We will not betray you before the world."
The military went out of its way to help the families of killed Tamil Tiger leaders, the president said.
He said that revisiting the past would "simply reopen old wounds".
He also castigated remnants of the Tamil Tigers and their supporters in Europe and the US - accusing them of plotting to destroy his country.
The UN-commissioned report said that tens of thousands of civilians died in the final phase of the war - most of them killed in shelling by government forces.