India president denies mercy plea of death row convicts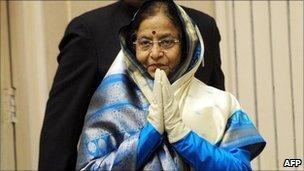 Indian President Pratibha Patil has rejected the mercy petitions of two convicts on death row, clearing the way for their executions, officials say.
They said that Devinder Pal Singh Bhullar from Punjab and Mahendra Nath Das from Assam have been denied mercy.
While Das was found guilty of a gruesome murder, Bhullar was sentenced for "plotting terror attacks".
This is the first time since 2004 that the president has given assent for a death sentence.
The death penalty is rarely given in India and is often delayed indefinitely or commuted by the president.
Bhullar was sentenced to death by a trial court in August 2001 for "plotting terror attacks" in 1993 in Delhi in which several people for killed. His mercy plea has been pending since 2002.
Das was sentenced to death in 1999 for murder.
A long list of death row convicts exists in India which includes Mohammad Ajmal Amir Qasab - the Pakistani national who was among the group of 10 attackers of Mumbai (Bombay) in 2008 who killed 165 people.
The last execution was held in August 2004 when Dhananjoy Chatterjee, convicted of raping and murdering a schoolgirl in 1990, was hanged.
The assassins of India's independence leader, Mahatma Gandhi, and former Prime Minister Indira Gandhi are among those who have been executed over the past 60 years.
Once a convict's death sentence is confirmed by the Supreme Court, he or she can appeal to the president for clemency.
The mercy petition is accepted or rejected by the president only after seeking the advice of the Indian cabinet.
Related Internet Links
The BBC is not responsible for the content of external sites.