Afghanistan: Taliban suspected of burning two alive
By Bilal Sarwary
BBC News, Kabul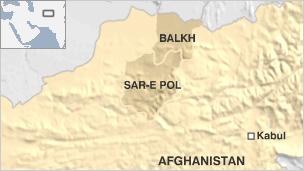 A senior Afghan general has ordered the capture of a Taliban deputy governor alleged to have authorised the burning alive of two people.
General Daud Daud told the BBC that the incident happened last Friday in the northern province of Sar-e Pol.
He said that the gruesome killings were ordered by Maulvi Nasrullah, a deputy governor of the Taliban in neighbouring Balkh province.
Afghanistan's human rights commission condemned the incident.
In a statement, it said that all those responsible must be arrested for what it called "the gravest human rights violation".
The Taliban say that they are unaware of the incident.
Officials say that one of those killed was a driver of a local Taliban commander.
They say that the burning happened when the Taliban commander, Mastu Khan, abducted an influential tribal elder from Gosfandi district.
Mr Khan's bodyguard, known only as Daoud, opposed the abduction and was beaten by Mr Khan for not obeying orders.
Daoud allegedly killed Mr Khan in retaliation for his beating and escaped. He is now receiving hospital treatment in Kabul.
It was a rare case of a Taliban subordinate turning against a superior.
Officials say that on the morning after the escape, the kidnapped trader and the driver were beaten by the Taliban who suspected them of having a role in Mastu Khan's killing.
Maulvi Nasrullah is alleged to have ordered that the pair be doused with fuel and burnt alive.
Related Internet Links
The BBC is not responsible for the content of external sites.