Nato apologises for air strike on Afghan civilians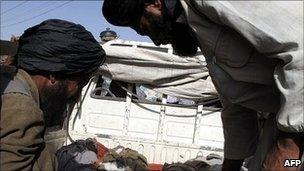 International forces in Afghanistan have apologised for an air strike that killed up to 14 civilians in the south-west of the country on Saturday.
A statement by senior Nato generals said the top priority was to prevent civilian casualties and it took such cases very seriously.
Afghan President Hamid Karzai earlier condemned the strike in Helmand.
He said Kabul had repeatedly asked the US to stop raids that killed civilians and this was his "last warning".
The White House said it shared Mr Karzai's concerns and took them "very seriously".
The joint statement was issued on Monday by Gen David Petraeus, Lt Gen David Rodriguez and Marine Maj Gen John Toolan.
It said that the air strike was carried out after a US Marine was killed and five insurgents took cover in a compound in Nawzad district and kept fighting.
The generals admitted that civilians were also in the building, but said that nine civilians had been killed.
Afghan officials earlier said as many as 12 children and two women died.
The generals' statement added that a full investigation had already been launched and that the International Security Assistance Force (Isaf) would "ensure that we make amends with the families in accordance with Afghan culture".
Mr Karzai's office said that "the president called this incident a great mistake and the murdering of Afghanistan's children and women, and on behalf of the Afghan people gives his last warning to the US troops and US officials in this regard".
A group from Sera Cala village travelled to Helmand's capital, Lashkar Gah, bringing with them the bodies of eight dead children, some as young as two years old, says the BBC's Quentin Sommerville in Kabul.
"See, they aren't Taliban," they chanted as the carried the corpses to local journalists and the governor's mansion.
While insurgents are responsible for most civilian deaths in Afghanistan, the killing of Afghans by foreign soldiers is a source of deepening anger, our correspondent adds.