India: Doctor killed in Bihar prison by inmates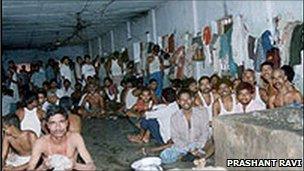 A doctor has been beaten to death by inmates of a prison where he was examining a patient in the northern Indian state of Bihar, police say.
Some reports say Dr Buddhadev Singh Bhudeo was being pressured by prisoners to issue fake medical certificates so they could avoid appearing in court.
The police have lodged cases against seven prisoners in the jail in Bihar's Gopalgunj district.
Bihar's government says it will introduce laws to protect doctors.
Dr Bhudeo was found unconscious in a prison ward and taken to hospital where he died of his injuries.
In an earlier incident, a doctor in a jail in the state capital, Patna, was reportedly threatened by a prisoner who demanded a fake medical certificate.
Bihar's health minister Ashwani Choubey told the BBC that the state government was planning introduce further protection for doctors.
"The doctors posted in jail have to work under pressure from the inmates for producing fake medical certificates and the Gopalgunj incident is a fallout of this pressure," said Mr Choubey.
Related Internet Links
The BBC is not responsible for the content of external sites.