Tamil police 'excluded' from Sri Lanka parade
By Charles Haviland
BBC News, Colombo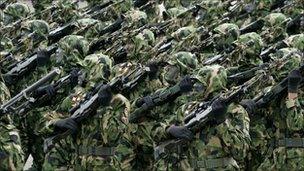 A Tamil policeman from northern Sri Lanka says he feels hurt that he and 25 Tamil colleagues were excluded from a recent parade of security forces.
He said they were pulled out at the very last moment. He believes it was because of their ethnicity.
But a police spokesman said there was no discrimination and it was "wrong" to say anyone was withdrawn.
Meanwhile, a UN official says he thinks a controversial video, purportedly from the recent civil war, is authentic.
After decades of ethnic tension and militant separatism, members of the Tamil minority, some 15% of the island's population, are under-represented in state institutions.
The security forces are overwhelmingly ethnic Sinhalese. Yet the police have recruited about 600 Tamils in northern Sri Lanka in the past year.
Of them, an elite 17 men and six women were selected to take part in last week's military display marking two years since the end of the war.
One of them told the BBC they were delighted to be chosen and trained, first in the north, then for 10 days in southern Sri Lanka and three days in Colombo.
But, he said, at the last moment a senior police officer asked them to withdraw, saying this was because President Mahinda Rajapaksa's security officer said that their presence in the parade posed "a security problem".
He said the senior police officer was very apologetic but he could do nothing in the face of the order from the presidential department.
The policeman said that after days of training in the hot sun, he and his colleagues felt a sense of "hurt and shame". He believed their exclusion was because of their Tamil ethnicity.
Asked to comment, the police spokesman, Prishantha Jayakody, said it was "completely wrong" to say that anyone was withdrawn.
He said there were established teams of what he called parade professionals; there was no ethnic discrimination in the police department, he said.
But the episode will fuel the sense among many Tamils that the state neither trusts them fully nor treats them equally.
In a separate development, a senior UN official has said he believes controversial video footage, circulated on the internet and broadcast by the UK-based Channel 4 News, is authentic.
The video appears to show Sri Lankan soldiers killing captured and unarmed Tamil Tiger rebels at close range.
The UN's special rapporteur on summary executions, Christof Heyns, said the video had been tehnically and forensically reviewed. He described it as evidence of what he called "definitive war crimes".
But a senior Sri Lankan defence official, Lakshman Hulugalle, said it was "not real" and "not authentic".
"They should get an authentication certificate from a reputed institution to prove that it's not a fake," he told the Associated Press news agency.