Blast in Pakistan restaurant injures 12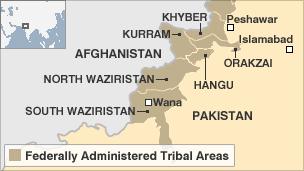 At least 12 people have been injured in an explosion at a restaurant in north-west Pakistan, officials say.
The attack took place in the Serai Malakhan area of Miranshah, the main town in North Waziristan province.
Witnesses said most of the injured had come from remote areas to go to the local hospital.
North Waziristan is a haven for Taliban groups allied with the Haqqani network which is based in the region
The injured included three women and four children, reports said. The victims were eating lunch when the explosion took place at about 11am local time.
Bombs targeting civilians are a rare occurrence in the region, says the BBC's M Ilyas Khan in Islamabad.
The explosion comes as security forces in the area imposed curfew on all main roads outside Miranshah.
Officials say the curfew has been imposed to minimise risk to security convoys moving in the area.