Former navy commando detained for Karachi attack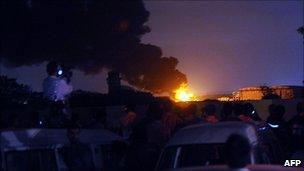 A former Pakistani navy commando has been detained in connection with last week's attack on a naval air base in the southern city of Karachi.
The suspect, Kamran Ahmed, and his brother were being interrogated for their alleged role in helping plan the assault, security officials said.
Mr Ahmed was court martialled and sacked from the navy 10 years ago for attacking a senior officer.
At least 16 people were killed and two warplanes were destroyed in the raid.
The attackers managed to hold hostage several foreigners at the base, but they were later rescued.
The Pakistan Taliban said the raid was to avenge Osama Bin Laden's killing by US special forces in the Pakistani town of Abbottabad on 2 May.
Ten soldiers died and 15 were wounded in the attack.
Two attackers were also killed and a third blew himself up.
Militants stormed three hangars housing aircraft at the Mehran naval aviation base on 22 May, according to officials.
They cut through barbed wire at a place on the perimeter where they could not be detected by security cameras to enter the base.
Eyewitnesses said the attackers were dressed as naval officials and were aware of the security protocol at the base and carried themselves like soldiers.
The militants used rocket-propelled grenades to damage and destroy several warplanes, witnesses said. These included the Pakistan navy's premier anti-submarine and marine surveillance aircraft - the US-made P-3C Orion.
At least two of these multi-million dollar planes were set ablaze.
It took the security forces more than 15 hours to secure the base.