UN says Sri Lanka war crimes footage is 'authentic'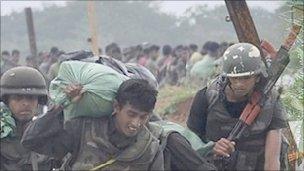 The UN special investigator into extrajudicial killings in Sri Lanka says video footage showing soldiers apparently executing civilians is evidence of serious rights abuses.
Christof Heyns presented the video footage to the UN Human Rights Council.
He said that after careful analysis, he had concluded that it was authentic.
The government has angrily denied his claims. It says that the video is a forgery and that the UN should let Sri Lanka hold its own inquiry.
The video was allegedly recorded during the final stages of Sri Lanka's 25-year conflict with Tamil Tiger rebels, which ended in May 2009.
"It's very rare that you have actual footage of people being killed," Mr Heyns, a lawyer by training, told The Associated Press. "This is different from CCTV. This is trophy footage."
Mr Heyns said that the video showed "definitive war crimes", believed to have taken place in May 2009 - that require both domestic and international proceedings to be launched.
"There is a prima facie case and it should now go to the next level," he said.
"So far we haven't seen any concrete results on the domestic level."
Mr Heyns added that the footage was evidence of serious human rights abuse.
The government has repeatedly denied accusations that thousands of civilians were killed in the latter stages of the war. It argues that it has been unfairly criticised for ending a conflict that claimed an estimated 100,000 lives amid regular suicide bombings of government targets.
The video shows graphic images of naked men, hands tied behind their backs, being shot in the head.
The BBC's Imogen Foulkes in Geneva says that with more evidence of alleged atrocities due to be shown in the city later this week, the pressure is growing on the UN Human Rights Council to debate the role of the army in the closing months of the Sri Lankan civil war.
The UN has said there is credible evidence that both sides may have committed war crimes - the Tigers by shooting escaping civilians and the government by shelling hospitals.
Meanwhile, an international seminar in which Sri Lanka aims to share its experience of defeating "terrorism" has begun in Colombo despite calls for a boycott by rights groups.
Entitled "Defeating Terrorism - Sri Lankan Experience", the event is being attended by 42 countries.
After 26 years of bloody civil war, Sri Lanka defeated Tamil Tiger rebels fighting for a separate homeland.
Human Rights Watch has said that the three-day event is an attempt at a whitewash.
The seminar is co-sponsored by China and officials say it is being attended by more than 40 nations, including Russia, India and Pakistan.
Britain, Japan, Australia and France are among nations who have decided to stay away from the event.
Defence Secretary Gotabhaya Rajapaksa, brother of President Mahinda Rajapaksa, told the seminar's opening session on Tuesday that mass army recruitment was key to ending the decades-long civil war.
"We had a large but essential expansion of the army. It grew from 120,000 to 220,000 [between 2005 to 2009]," he said.
He added that he and the president had displayed a strong will to crush the Tigers. Sri Lanka says that the three-day conference could benefit other countries struggling with insurgencies.
Related Internet Links
The BBC is not responsible for the content of external sites.