Sri Lankan police chief Mahinda Balasuriya resigns
By Charles Haviland
BBC News, Colombo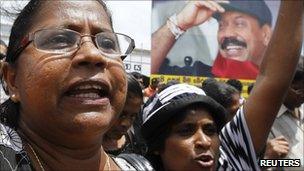 In an extremely rare move, the chief of police in Sri Lanka has opted for early retirement.
It comes two days after 250 people were injured in clashes between police and factory workers. One man died later.
The police have been widely criticised for opening fire with live bullets and an opposition MP says one injured person is fighting for his life.
The violence happened as workers demonstrated against a new pension scheme, which has now been suspended.
Police Inspector-General Mahinda Balasuriya said that he was resigning from his post because of what happened on Monday at a free trade zone north of the capital.
Factory employees, mainly garment workers, protested angrily about a new pension scheme which they say will hit the poorest people hardest.
They threw stones and the police fired live rounds and teargas.
The government says hundreds were injured including 15 police officers.
An opposition parliamentarian, Ranjan Ramanayake, told the BBC he had visited hospitals and met at least eight people who had been shot.
He said one young man who was on a life-support machine after a bullet went right through his body had died.
Television footage from Monday appeared to show the police storming a factory compound after workers retreated from the teargas, knocking men to the ground and beating them up.
The police gave a different account, saying the protesters attacked police stations and tried to steal weapons inside.
In a rare display of public anger, big cardboard cutouts of President Mahinda Rajapaksa were torn down.
The free trade zone has been closed down for the moment and many parents have come to pick up their daughters and sons who work there, fearing for their immediate safety.
Two senior police officers have been arrested in connection with the violence and a retired judge is investigating it.
With concern over the health of the most badly injured people, a private news website says the government has ordered the director of the biggest hospital not to release casualty figures.
A Hong Kong-based campaign group, the Asian Human Rights Commission, says it needs to be established who ordered live bullets to be fired.
Related Internet Links
The BBC is not responsible for the content of external sites.