Sri Lankans protest over killing of co-worker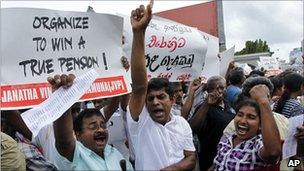 Thousands of Sri Lankan factory workers have demonstrated against the killing of a co-worker during violent clashes with police earlier this week.
The workers, mostly women, chanted slogans against the police and President Rajapaksa opposite the entrance to the international airport.
They waved a large white cloth flag to symbolise the death of Roshen Chanaka.
Eyewitnesses say that the 22-year old man was shot dead in clashes between demonstrators and police on Monday.
The government has apologised, and two ministers have condemned the police tactics.
On Wednesday, in a move very rare in Sri Lankan political life, the police chief resigned as a result of the incident.
Protesters say that while the president had declared that the military were aware of the need to protect human rights, the same could not be said of the police.
Demonstrators on Thursday were hemmed in by soldiers, with the unpopular police nowhere to be seen.
The government is still popular following its victory against the Tamil Tigers two years ago. But economic hardships are growing in Sri Lanka.
The current dispute stems from an unpopular pension scheme, which would have docked an extra 2% from private sector workers' salaries, yet benefited only some of them.
The government has suspended the scheme but says it may yet bring it in again.
Related Internet Links
The BBC is not responsible for the content of external sites.