India: Protests against crackdown on Baba Ramdev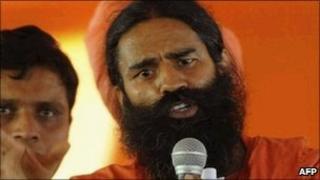 The Indian government is facing further protests after it cracked down on a hunger strike by yoga guru Baba Ramdev and evicted him from the capital Delhi.
The main Hindu nationalist Bharatiya Janata Party (BJP) is demonstrating in Delhi to protest against the use of police action to break up the fast.
Baba Ramdev has vowed to continue his hunger strike against corruption in his home city of Haridwar.
He wants the recovery of suspected bribe money allegedly held overseas.
Police in Delhi broke up the yoga guru's fast over the weekend after angry exchanges with the authorities.
BJP leader LK Advani said the police action against Baba Ramdev was "naked fascism", and demanded an apology from Prime Minister Manmohan Singh and Congress party president Sonia Gandhi.
Baba Ramdev says he has no political affiliations, but his protest was backed by the BJP.
Hardline Hindu group Vishwa Hindu Parishad (World Hindu Council) has also protested against the police action against Baba Ramdev.
"By insulting Baba Ramdev they have insulted all the Hindu gurus and saints," the group said in a statement.
Baba Ramdev was detained by police on Sunday night and then sent out of Delhi.
Now the yoga guru says he will continue his hunger strike in the holy Hindu city of Haridwar in the northern state of Uttarkhand where he is based.
He has said that the police action on his fast in Delhi was a "blot on democracy and a conspiracy to kill me".
Around 30 people were injured as police fired tear gas to disperse thousands of his supporters, reports said.
Civil society groups and leading anti-corruption campaigners have condemned the police action on Baba Ramdev and his supporters.
The government has justified the crackdown on Baba Ramdev's hunger strike, saying that the yoga guru had reneged on his promises during negotiations.
Federal minister Kapil Sibal, who was negotiating with the yoga guru, said that Baba Ramdev had gathered 50,000 people at a ground in Delhi after seeking permission for a yoga camp to be attended by 5000 people.
"It was not a yoga platform, but a political platform. The law and order had to be enforced in Delhi. We did not want any disruptions in that," he told reporters.
Baba Ramdev's protest comes as the Congress-led Indian government is struggling with a corruption scandal surrounding the sale of mobile phone operating licences.
He has also called for the death penalty for corrupt government officials.
The yogi, whose daily TV programme is watched by millions, began his fast on Saturday after cabinet ministers failed to convince him to call it off.