Nepal police charged with UN embezzlement scam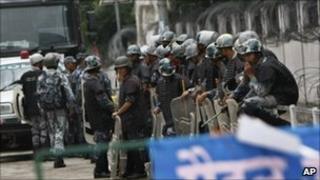 Thirty-four former and current high-ranking Nepali police officers have been ordered to appear in front of a court to face embezzlement charges.
They are accused of stealing more than $4m (£2.4m) during the procurement of obsolete and sub-standard armoured vehicles for Nepali UN peacekeepers.
It is one of the largest corruption cases to be brought in Nepal.
Nepal has a history of failing to prosecute high-ranking officials suspected of corruption.
Among those accused of fraud - which allegedly happened in the Darfur region of Sudan - are three former police chiefs and 24 serving officers. The serving officers were suspended from their posts when the case was filed on Tuesday.
They were told on Wednesday to appear before a special court within the next 15 days.
"We can't comment on the investigation, but we are trying to manage the vacant posts as best as we can," said Nepal police spokesman Navaraj Dhakal.
The corruption case took 19 months to prepare by the Commission for the Investigation of Abuse of Authority.
However, Nepalis have criticised it for failing to charge the politicians who oversaw the procurement process, including three former home ministers.
"The political leaders who have abused their authority almost always escape the net of the anti-graft body," wrote one editorial in a national newspaper.
The commission has also charged two contractors responsible for supplying the armoured personnel carriers (APCs).
One of them, Briton Michael Rider from the company Assured Risks, said that his company was not responsible for supplying faulty equipment. He said that it had been badly maintained.
"The problem in Sudan occurred because the vehicles were left unattended near the salty waters of Port Sudan and in extreme temperatures for a long time, without any daily, weekly and monthly service which is required on any APC," he said.
The 34 officers charged are expected to appear in court within the next two weeks. The commission has asked for sentences of up to 13 years for those found guilty.