India yoga guru Baba Ramdev ends hunger strike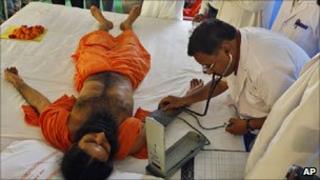 Indian yoga guru Baba Ramdev has ended a nine-day anti-corruption hunger strike.
The yoga guru said he would continue his campaign against the recovery of suspected bribe money allegedly held overseas.
He had continued his fast in his home city of Haridwar after the police cracked down on his hunger strike and evicted him from the capital Delhi.
The government faced nationwide protests against the crackdown.
Baba Ramdev was hospitalised on Saturday after his condition deteriorated on the seventh day of his anti-corruption hunger strike.
He ended his strike on Sunday by accepting fruit juice from his supporters.
"The fast was not against any individual or party but to create awareness [among the people] of the corrupt system and illicit money stashed away in foreign countries, and has been successful," Baba Ramdev said in a statement.
'Weakening democracy'
Separately, India's Finance Minister Pranab Mukherjee has criticised Baba Ramdev and anti-graft activist Anna Hazare for trying to "dictate" terms to the government and "weakening" parliamentary democracy.
Mr Hazare held a fast against corruption in April, forcing the government to allow him and his supporters to help draft new anti-corruption legislation. The two sides are deadlocked over how powerful a new anti-graft ombudsman should be.
He is threatening a new fast if the ombudsman bill is not passed by August.
"It is the parliament's right to decide on bills and legislations. Nobody can give a guarantee as to how long parliament is going to take to pass the bill or when it will be passed. Parliament is supreme," Mr Mukherjee told reporters.
"If someone dictates terms from outside to the government, does it not weaken or subvert democracy? It is a big question."
Correspondents say Mr Mukherjee's remarks point to a hardening of stance by the government against anti-graft campaigners.
The Congress-led government is struggling with a series of corruption scandals - the biggest of which surrounds the sale of mobile phone operating licences.
Auditors say spectrum was sold off on the cheap at an estimated cost to the exchequer of $40bn. A former government minister and several others have been arrested and are being prosecuted - all deny the corruption charges against them.