India: Mumbai journalists protest against killing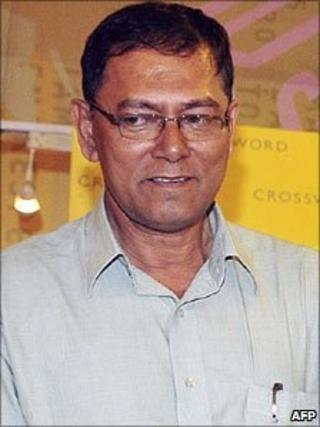 Journalists in the western Indian city of Mumbai (Bombay) have held a protest against the killing of a prominent crime reporter on Saturday.
Jyotirmoy Dey, who worked for Mid Day newspaper, was shot dead by four men on motorcycles.
The police said the killing had been carried out by a professional gang, and have launched an investigation.
Reports said that Mr Dey, 56, had recently reported on an "oil mafia" which had been pilfering fuel.
Mr Dey was returning home on his motorcycle on Saturday afternoon when he was shot dead by men on motorcycles, who sped away after the incident, police said.
He was cremated in Mumbai on Sunday.
Mr Dey was one of Mumbai's top journalists reporting on crime and had worked for leading newspapers like The Indian Express and Hindustan Times, before joining Mid Day as the investigations editor.
Journalists in the city held a protest march on Monday, seeking greater protection from the government.
Mr Dey's death "underlines the increasing threat investigative journalists are being subjected to by powerful political and business interests indulging in illegal acts", the Mumbai Press Club said in a statement.
"Scores of incidents of journalists being beaten or threatened by politicians and local mafia have been brought to the fore in recent weeks and months."
Some reports said that Mr Dey - who wrote under the byline J Dey - had written a number of stories recently on the city's "oil mafia" which sold adulterated fuel.
The Committee to Protect Journalists said 27 journalists have been killed in India since 1992, according to the AFP news agency.
Most victims were print journalists covering politics, business and corruption.