India-Sri Lanka ferry services resumes after 30 years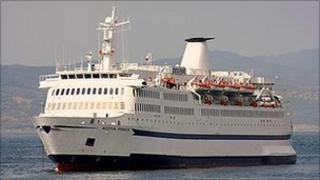 For the first time in three decades, there are to be passenger boat services between India and its close southern neighbour, Sri Lanka.
The first ferry since the early 1980s is making the journey on Monday night from the south Indian port of Tuticorin to the Sri Lankan capital, Colombo.
The Scotia Prince can carry more than 1,000 people. It has a bar, restaurant and casino.
Ferries were suspended during the Sri Lankan civil war, which ended in 2009.
After the Scotia Prince's maiden voyage, bringing invited VIPs, there will be about two crossings each way per week.
This service is run by an Indian company, Flemingo, which also owns a chain of duty-free shops.
Another boat, to start operating soon, is run by Sri Lanka's state-owned Ceylon Shipping Corporation.
Cheap alternative
Tuticorin to Colombo is an entirely new route.
The old ferry service stopped 30 years ago, linked the Indian temple town of Rameshwaram to Mannar, a part of northern Sri Lanka heavily affected by the war.
There are hopes of reviving that route, too, although with poor infrastructure on both sides it is not known exactly when.
Ceylon Shipping Corporation spokesman Sunil Obedage said the ferries will be considerably cheaper than the planes that link Colombo with southern India - meaning less affluent people from both countries can now cross.
The ferry will also have romantic appeal to travellers, such as the backpackers who flock to both countries.
But ironically the ferry is resuming at a time of particularly bad relations between Sri Lanka and the nearest Indian state of Tamil Nadu.
Its state assembly is calling for economic sanctions against Sri Lanka over what it says is the island's mistreatment of its Tamil ethnic minority.