India: Ombudsman law talks deadlocked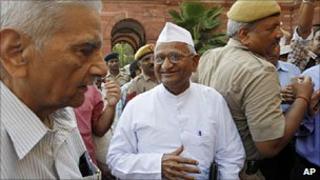 Talks between India's government and civil society negotiators over an anti-corruption law have hit an impasse, civil society representatives say.
The two sides are deadlocked over how powerful a new anti-graft ombudsman should be.
A joint panel, set up after anti-graft activist Anna Hazare undertook a hunger strike to to press for tough new laws, has already held seven meetings.
India has recently been hit by a string of high-profile corruption scandals.
The civil society members, led by Mr Hazare, have been pushing the government for a strong ombudsman that will have the powers to investigate corruption charges against the prime ministers, senior judges and MPs, among others.
The government has reportedly refused to include the prime minister and senior judiciary under the ombudsman.
'Emaciated'
After seven meetings with the government, civil society members said on Wednesday that the government "wants to kill the Lokpal Bill before it was born".
"They want to create a Lokpal without any administrative or investigative machinery - an emaciated and disempowered Lokpal."
The civil society members have been demanding an ombudsman which will supervise and run an independent investigative and vigilance agency which will probe corruption.
A member of the government panel and Telecommunications Minister, Kapil Sibal, told reporters that the two sides "will prepare a draft on the issues on which we think there is divergence and we will try and arrive at a consensus".
He said that if there was no consensus, "both the versions [of the civil society and the government] of the bill would be sent to the cabinet" for a final decision.
The two sides are expected to meet on 20 and 21 June in what will be their last meetings.
The draft Lokpal Bill is expected to to be tabled in the parliament by the end of June.
Differences between the government and the civil society members over the ombudsman bill have been brewing for over a month with both sides trading charges.
The head of the government panel, Finance Minister Pranab Mukherjee, has expressed concerns about the civil society panel for making "unreasonable demands" like video graphing meetings of a joint panel and imposing deadlines on the parliament.
"If someone dictates terms from outside to the government, does it not weaken or subvert democracy? It is a big question," Mr Mukherjee said.
A hunger strike by Mr Hazare in April heaped pressure on the government, which is beset by corruption scandals.
Some of the recent corruption scandals to have rocked India include a multi-billion dollar alleged telecoms scam, alleged financial malpractices in connection with the Commonwealth Games, which India hosted, and allegations that houses for war widows were diverted to civil servants.
Critics of the government say that recent scandals point to a pervasive culture of corruption in Mr Singh's administration - adding to the difficulties of a politician once seen as India's most honest.
A recent survey said corruption in India cost billions of dollars and threatened to derail growth.