Pakistan village raided 'by militants from Afghanistan'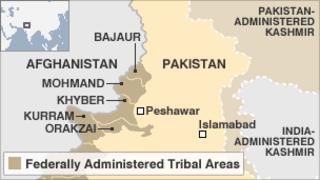 More than 200 militants have stormed a Pakistani village near the Afghan border, wounding at least two women, officials say.
Pakistani officials say the insurgents crossed the border to attack Mamoond village in Bajaur tribal region.
They were armed with mortars, rockets and machine guns, officials said.
A similar attack earlier this month in Pakistan's Upper Dir area led to a prolonged clash and left at least 25 Pakistani troops dead.
"Some 250-300 militants targeted civilians in Mamoond," AFP news agency quoted local government official Fazle Akbar as saying.
The village is about 65km (40 miles) north-west of Khar, the main town in Bajaur.
"We have sent army and paramilitary troops to the area as we got reports that militants are still present there," AFP quoted a security official as saying.
"Some militants were killed when troops in the area responded, but we do not know the number of casualties yet."
'Frightening dimension'
The BBC's Syed Shoaib Hasan in Karachi says that the Taliban are generally believed to be behind such raids.
But a Taliban spokesman denied any connection to the most recent attack. He said the men involved had been thrown out of Taliban ranks for being involved in armed robberies and what he said were immoral activities.
This adds a new and frightening dimension to Pakistan's war-torn northern regions, our correspondent says.
The attack is the third cross-border incursion in a month. Earlier in June, about 200 insurgents wearing military uniform attacked a security checkpoint in Upper Dir, outside Pakistan's tribal areas.
The military used heavy weapons and helicopter gunships to repulse the attack.
Securing the long, porous border that divides Pakistan and Afghanistan has been a major challenge for the two countries as they try to battle insurgents, correspondents say.
Many of the various groups along the frontier are closely linked.