India: Strike at Maruti Suzuki called off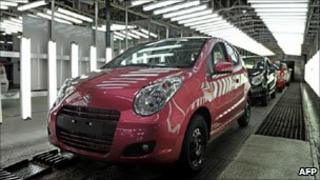 Workers at India's top car maker Maruti Suzuki have called off a 13-day strike which had seriously affected production.
The company has agreed to reinstate 11 sacked employees, and the workers have agreed not to form a new union.
Nearly 2,000 workers had gone on strike demanding recognition of a new workers union.
Maruti Suzuki, a joint venture partner of Japan's Suzuki Motor Corporation, has 50% of India's booming car market.
The strike had affected production at the company's main factory in Manesar in Haryana, which makes more than 1,000 cars a day.
Reports say that the company has agreed to take back 11 workers who had been dismissed for leading the strike.
But it did not concede to the workers' demand for a new union - the company already has one recognised workers union.
Maruti Suzuki has two factories in India and plans to spend more than $1bn (£620m) over the next three years to boost capacity in a market where vehicle sales grew by a record 30% last year.