India invites tenders 'to build tallest statue'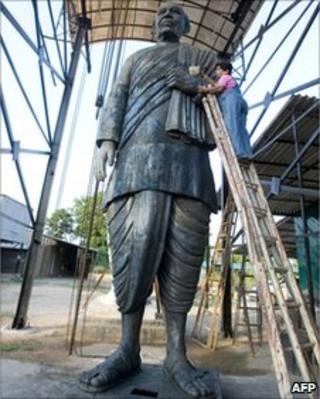 The Indian state of Gujarat has invited bidders from around the world to help build what they say would be the world's tallest statue.
The latest issue of the Economist magazine has a full-page advertisement inviting tenders for the project.
At 182m (597ft) the statue would be a memorial to Indian Independence hero Sardar Vallabhbhai Patel and twice as high as New York's Statue of Liberty.
The tallest statue in the world is China's Spring Temple Buddha at 128m.
The projected is expected to cost $266m (£162m) and proposals have to be submitted by 11 July.
Sardar Patel, generally called the "Iron Man of India", played a major role in the country's fight for independence from British rule.
He was a close friend and ally of Mahatma Gandhi and became the first home minister of independent India.
Controversial minister
A memorial to Patel in the state of Gujarat has been planned for some time. A post from Gujarat Chief Minister Narendra Modi's official blog in October 2010 said the memorial would be called the "Statue of Unity" and would be a "source of inspiration".
He says it will also have a "high-tech museum, chronicling 90 years' history of India's freedom fighters" and will be developed as a research centre for "preserving the unity and integrity of India".
"Thus, it would be standing high not just in meters and feet but much more in terms of academic, historical, national and spiritual values," he added.
The chief minister has said he expects the project to be complete in three years.
Narendra Modi is a controversial figure who has been credited for bringing prosperity and development to the state of Gujarat but who has also been accused of complicity in some of the worst religious riots in recent Indian history.
"If Mr Modi really wants to show his respect for Sardar Patel, he should spend this money on the upliftment of those living below the poverty line and on improving the infrastructure," Mahesh Pandya, director of Paryavaran Mitra (Friends of the Environment), based in the Gujarati city of Ahmedabad, told the AFP news agency.
"Such an expenditure on erecting a statue cannot be justified in a scenario when people are dying of hunger and poverty," Mr Pandya said.