Afghan concern over saffron price drop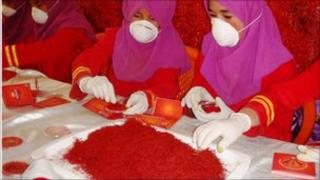 Farmers in western Afghanistan say that saffron prices have declined sharply over the past year, raising fears that some may resume opium cultivation.
Saffron has been promoted as an alternative to opium and a profitable crop for farmers.
But growers in the province of Herat, which borders Iran, told BBC Pashto that prices have dropped by up to 60% as supply has outstripped demand.
Afghanistan, in particular Herat, has the ideal climate for growing saffron.
Afghan officials say that last year Herat produced more than two-and-a-half tonnes of saffron. This year they expect more than three-and-a-half tonnes to be produced.
Last year pure saffron sold at $4,500 (£2,787) per kilo but now that price stands at $1,500. The high prices of saffron, the world's most expensive spice, has benefited cultivators around the world over the years.
Opium alternative
Unconfirmed reports allege that Iran has been flooding the local market with saffron in order to force down prices and drive the Afghan farmers out of business. Correspondents say that Iran has never made a response to such allegations.
The head of the chamber of commerce in Herat, Gholam Jailani Hamidi, told the BBC that the production increase is the key to the price drop. "We need balance in our productivity and demand and we need to find new markets," he said.
But correspondents say that some are afraid the price drop could leave farmers considering whether to revert to growing poppies. Afghanistan is estimated to produce around 90% of the world's opium.
Farmers are still willing to farm saffron and saying they do not want to go back to poppy cultivation as long as the government provides them with financial help, correspondents say.
But Afghan businessmen have been demanding new processing and packaging systems in order to open foreign markets for their product.