Pakistan: Majors quizzed over 'links with extremists'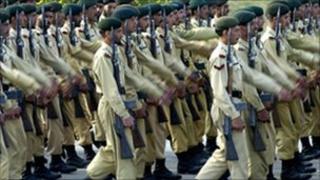 Four majors in the Pakistani army are being investigated for alleged links with banned extremist group Hizb ut-Tahrir, the army has said.
Army spokesman Gen Athar Abbas told the BBC the men were not under arrest but were being interrogated in connection with the case of Brig Ali Khan.
He was detained last month and is also accused of links to Hizb ut-Tahrir.
The army says it will not tolerate support for extremism within its ranks. Brig Khan's family say he is innocent.
The brigadier's lawyer and colleagues have told the BBC he is being victimised for criticising army top brass for their support for the US-led "war on terror".
'Incites hatred'
The brigadier is now being interrogated by military intelligence, the army says.
He is one of the most senior serving officers accused of links with extremists in Pakistan in recent years.
"He is under detention and an investigation is in progress for his contacts with a proscribed militant organisation," military spokesman Maj Gen Athar Abbas told BBC Urdu's Asif Farooqi on Tuesday.
Hizb ut-Tahrir is a global Islamist group that wants to revive the Islamic caliphate and unify Muslim countries under Islamic laws. It describes itself as a peaceful political organisation - but its critics say it incites hatred and violence.
The group is active in Western countries, but the Pakistan chapter of the organisation is not particularly prominent, correspondents say.
Pakistan's army has long faced accusations that it harbours extremist sympathisers within its ranks, and some analysts say the detention could be an attempt to persuade critics that these concerns are being acted on.
'Brilliant' record
A senior military officer, who wished to remain unnamed, told our correspondent that senior officers were both surprised and "disturbed" when a secret report was presented to them about the "inappropriate" activities of the brigadier.
The officer comes from a family with three generations of military service.
Brig Ali's father was a junior commissioned officer, and his younger brother is a colonel serving in the intelligence service. His son and son-in-law are both army captains.
Brig Khan's wife, Anjum, called the allegations against him "rubbish".
The brigadier's family say he disappeared on 6 May.
A day earlier he had openly criticised military chiefs at an internal meeting following the US raid that killed Bin Laden, his lawyer told BBC Urdu.
This is not the first time allegations have been made about links between elements in Pakistan's military and banned organisations.
At least two army officers were court martialled last year for links with Hizb ut-Tahrir.
In 2004 several low-ranking military personnel were convicted in connection with attempts on the life of former President Pervez Musharraf.
Last week, Pakistan's military denied that a major was among several people who had been detained following the killing of Bin Laden. They were accused of being CIA informants and passing on information that helped the US track down the al-Qaeda leader.