Four Nato soldiers killed in eastern Afghanistan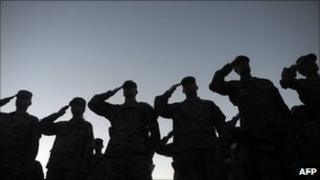 Four foreign soldiers have been killed in eastern Afghanistan in two separate attacks, the Nato-led International Security Assistance Force (Isaf) has said.
Three of the soldiers were killed by a roadside bomb and the fourth died in a separate attack, the alliance said.
Fighting has intensified since the Taliban began a spring offensive against security forces.
Violence has escalated along the eastern border with Pakistan.
The alliance also released a statement saying that a fifth soldier had died after being attacked in the south on Monday. It gave no further details about the nationalities of the dead soldiers.
The deaths come a day after a British soldier's body was recovered in the southern province of Helmand after he went missing from a military checkpoint.
The soldier was found following an extensive search on Monday and came as British Prime Minister David Cameron was visiting Afghanistan.
Several Afghan cities and provinces, including Lashkar Gah, the capital of Helmand, are set to be handed over to Afghan control in the coming weeks.
It is the first step in a long process of withdrawal and after that, in these areas, the primary role of foreign troops will be to train and equip Afghan security forces, officials say.
Meanwhile, delicate negotiations have been taking place between the US and the Taliban. The Afghan government is already reportedly engaged in tentative talks with the Taliban at several levels.
Analysts say the US and Nato acknowledge that they cannot withdraw successfully from Afghanistan, or effect a transition to Afghan forces by 2014, without an end to the war and some kind of political settlement between the Afghan government and the Taliban.