Pakistan troops take control of Karachi after violence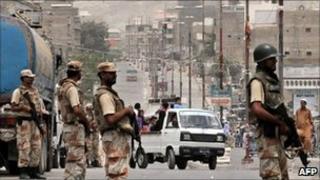 Security forces in Pakistan have taken control of parts of its largest city, Karachi, where at least 100 people have been shot dead this week.
For the first time since violence started on Tuesday, paramilitary troops and police commandos are patrolling the city's western neighbourhoods.
On Friday police were ordered to shoot-on-sight anyone involved in violence.
Ambulances and armoured vehicles have been evacuating families trapped inside their homes for days.
The surge in violence in Pakistan's economic capital is widely blamed on armed gangs linked to rival political and ethnic groups.
Day of mourning
Residents said they were taking advantage of the lull in shootings to move to safer areas as they had little faith in the government's ability to put an end to the lawlessness.
On Friday, the city was totally shut down after its main political party, the MQM - which recently resigned from the government to join the opposition ranks - called for a day of mourning.
The shutdown, however, did not prevent more deaths.
The violence spilled over in other parts of Karachi and more than a dozen people were killed in shootings, hand grenade and rocket attacks.
Karachi, with 18m residents, is not only Pakistan's biggest port city, but also its main commercial and financial hub.
Many here are worried that if this city is brought to a standstill, it will have a huge impact on Pakistan's already struggling economy.