Bomber kills five French troops in Kapisa, Afghanistan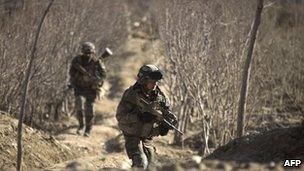 At least five French soldiers and one civilian have been killed in a suicide bomb attack in the north-eastern Afghan province of Kapisa, officials say.
French President Nicolas Sarkozy confirmed the soldiers had been killed while on duty in the Tagab valley. A number of others were wounded.
The troops were guarding local tribal leaders when the bomber struck.
Mr Sarkozy visited Afghanistan on Tuesday and announced 1,000 French troops would leave by the end of 2012.
The bomber walked up to the French troops who were standing by their armoured vehicles before detonating his explosives, Reuters news agency quotes a local official as saying.
"A terrorist set off a bomb close to the soldiers wounding four other French soldiers seriously and three Afghan civilians," President Sarkozy's office said in a statement.
It is thought to be the heaviest loss of life France has suffered in Afghanistan since 10 of its soldiers were killed in a Taleban ambush in the Sarobi area east of Kabul in August 2008. Another 21 were wounded.
Fighting has intensified across Afghanistan in recent months.
Last month a suicide bomber killed eight people at a police academy in Kapisa.
The Taliban said they carried out that attack, which happened shortly before the French ambassador was due to visit the area.
French soldiers have been part of the Nato-led operation in Afghanistan since 2001.