Anger and shock at Mumbai blast scene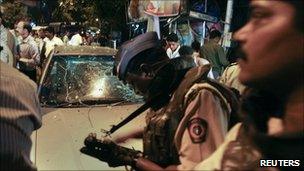 Dadar is one of the old areas of Mumbai, in the middle of the city. The blast here happened in a very crowded area with lots of shops and residential buildings.
Nobody really knows exactly what happened - whether it was inside a car or outside. What I saw was a bus stop which was very badly damaged, and a car nearby that was partially damaged.
This was a low-intensity blast: only four people were injured. Here in Dadar the blast was not powerful. Police have said the blast in Zaveri Bazaar was stronger - about 70 or 80 people have been wounded there.
But there is some anger here. It was 7pm when the blast happened and the area was very crowded. Police say the timing of the blast is significant. This was the height of the evening rush hour - it was designed to cause maximum panic and casualties.
One shopkeeper said he heard a loud bang and came out and saw the bus-stop decimated and people lying injured on the road.
Another person I spoke to, who is also a shopkeeper in the area, said he heard the blast when he was inside the shop. He came out and was told there was an explosion and then he saw people being taken to the hospital in ambulances.
There are a number agitated people here: one person asked why Mumbai is always the target of attacks.
However, many of the people gathered here now are merely onlookers curious to see what has happened. People have come from nearby areas to see what is going on.
It has been raining hard and that is clearly hampering the police in their work. They have been busy looking for evidence. The onlookers may also be hampering them - some of the bystanders are acting as if it is a kind of party, making noises.
One striking feature of Dadar is that a lot of shops have remained open. Although some have shut down, many have chosen to go about business as usual and people have been buying groceries. There is no evidence of real panic in Dadar.
But in other parts of the city, the story is grimmer and there is panic and people are rushing back home.