Mumbai's 'macabre dance of death' - Indian press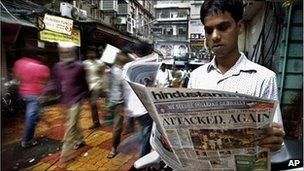 Wednesday's triple blasts in Mumbai (Bombay) have received extensive media coverage in India.
"Repeatedly hit over a half-a-dozen times since the early 1990s, India's financial capital has now become the favourite hunting ground for terror outfits.
"Over 600 people have died in these attacks.
"The macabre dance of death has unnerved citizens amid fears that Mumbai may go the Karachi way. Pakistan's port city, barely 800km from Mumbai, has been wracked with violence and bloodbath over the past few years," the report says.
The report quotes Maharashtra state minister Chhagan Bhujbal as saying: "Mumbai and Delhi will always remain terror targets.
"Delhi is the political capital and Mumbai the financial one.
"An attack on a city like Mumbai always rocks the nation and gets the attention of the world, which is what terrorist groups want."
The report goes on to ask if it is possible to prevent terror attacks in the city.
Investigations into five urban terrorist attacks in India since November 2008 Mumbai attacks continue to flail about in dark, The Hindu says in a report.
"Police forces across India have made little progress in identifying the perpetrators of the five major urban attacks which have taken place since then," it says.
The Economic Times newspaper explores what makes Mumbai's Zaveri Bazaar a tempting target for terrorists?
The answer, the report says, may lie in its congestion, richness and mix of religions.
"Other parts of Mumbai are as cramped and crowded, presenting the prospect of maximum casualties and chaos. Other areas combine different religions and communities in close proximity. And other areas are rich, or richer, but Zaveri Bazaar is all three," it says.
The Indian Express reported on the role that social networking websites played in spreading information about the blasts and coming to the aid of people.
"The city united on this medium to bail out their fellow citizens in need of help. Many posted their locations and travel route on Facebook and Twitter and offered to pick and drop those in need of help.
"A few even shared their postal addresses, requesting the stranded lot to drop by in order to reach a safe location," it said.