Sri Lanka Cricket ex-official admits Singapore deal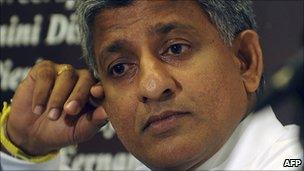 A former official at Sri Lanka Cricket has told the BBC it signed a five-year deal allowing a foreign company to run Sri Lanka's Premier League.
Nishantha Ranatunga, the former secretary of the cricket board, denied reports a 25-year deal had been struck.
The former board of Sri Lanka Cricket, including Mr Ranatunga, was dismissed by the country's sports minister and a new interim administration is in place.
But BBC Sinhala understands that the deal to run the league still stands.
The league was due to be launched on 19 July but has been postponed until next year due to the financial crisis following the co-hosting of this year's World Cup, and because India refused to allow players to participate in the Sri Lankan league.
There was no immediate response from the current cricket board about media reports of a 25-year deal.
Sri Lanka's Sunday Times newspaper said that Sri Lanka Cricket gave Singapore-based Somerset Entertainment Ventures the rights to sponsor the local cricket tournaments for the next 25 years.
But this was denied by Mr Ranatunga: "As far as I'm concerned, we signed an agreement for a five-year period," he told BBC Sinhala service.
"We are not aware of 25 years. I think the report was compiled without knowing the facts."
He said the agreement was signed by the former president and the former CEO of Sri Lanka Cricket. But neither man was available to talk to the BBC.
In June, India's cricket board refused to let the country's players take part because it said the SLPL was run by a private company with links to the former IPL chief Lalit Modi - who was dismissed amid corruption allegations, which he denies.
Both Mr Modi and Sri Lanka Cricket officials deny any such link between Somerset Entertainment Ventures and Mr Modi.
Related Internet Links
The BBC is not responsible for the content of external sites.