India temple treasure petitioner Sundara Rajan dies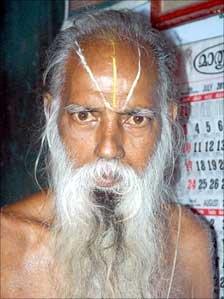 The man who led a legal battle which led to the recent discovery of treasure worth billions of dollars in an Indian temple has died at the age of 70.
TP Sundara Rajan, a retired police officer, petitioned for the vaults of the 16th Century Sree Padmanabhaswamy temple in Kerala to be opened.
Inside, investigators found gold and silver jewellery and precious stones which had been hidden for decades.
The family of Mr Sundara Rajan said he died after a brief illness.
Local legend had long held that vast riches had been interred in the walls and vaults of the temple by the Maharajahs of Travancore over many years.
TP Sundara Rajan went to the Supreme Court asking that the state take over control of the temple, saying the current temple trust were incapable of protecting the wealth inside.
The court ordered an inspection of the temple vaults and when inspectors broke through, they found huge amounts of treasure including diamonds, jewellery, pots and gold coins.
Five of the vaults have been opened and the contents itemised, but a sixth and more secure vault remains closed while officials determine how best to keep the items safe.
Historians say it is almost impossible to assess the value of the objects, but officials have said it could be more than £12bn ($20bn).
Neither the state of Kerala nor the descendants of the Travancore royal family have made any claim on the treasure, which they say is the property of the temple and its deity.
But the discovery has sparked a public debate, with many believed the items should be put in museums or sold and the profits used for the public good.
Security has since been stepped up at the temple, which is now one of the richest in the world.
Related Internet Links
The BBC is not responsible for the content of external sites.