Afghanistan: The '$1m houses' of Lashkar Gah
By Michael Buchanan
BBC News, Helmand province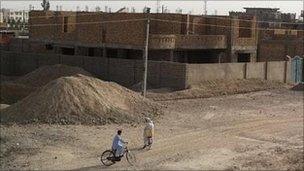 Lashkar Gah is changing. The city has become a building site, as offices, factories and houses are rapidly constructed.
Some of the houses are in fact so luxurious that they are reportedly being sold for between $500,000 and $1m (£310,000-£620,000).
Parts of the city in this war-ravaged southern Afghan province are experiencing a property bubble.
"You should have bought here three years ago - you'd have made a fortune," says the Governor of Helmand, Gulab Mangal, with a broad smile.
The most expensive homes are being built next to the heavily fortified Helmand Police Command Centre, giving the owners a sense of security.
Inside its walls, Maj Wes Hughes from the Gurkhas leads a small team mentoring the local police. He says that working with other agencies of the Afghan Security forces, they are capable of protecting Lashkar Gah.
"They provide a real depth of security that Isaf can never provide because it's an Afghan face; a local Afghan recruited into his local police force providing security."
The police, who appear to be present on every major street in Lashkar Gah, are constantly praised for their bravery, their willingness to engage the insurgents.
A grisly collection of blown-up vehicles in the compound is testimony to the courage required to be a policeman in Helmand.
But they also remain - in large part - illiterate and corrupt. The going rate for securing a post as district police chief in rural parts of Helmand is around $50,000, according to Maj Hughes.
"Corruption is endemic within the culture. There is an Afghan saying: 'You join the Afghan army for prestige; you join the Afghan police for money'. It certainly rings true from what I've seen."
Corruption within the police not only undermines confidence in the force, it also undermines its capacity. Western military officers estimate that 10-30% of police in some Helmand districts don't actually exist - though their salaries are paid.
In addition, more than 800 officers have still to be recruited in the province. It is little wonder therefore that the head of the command centre, Col Ismail, says he needs 500 more officers to successfully police Lashkar Gah.
"We need more police. We also require armoured vehicles and modern weapons. And we need more, better training as well."
It all creates a certain sense of nervousness among the people of Lashkar Gah. At one of the city's radio stations, Radio Sabawoon, there is a daily phone-in programme called What Helmand Wants.
The station's director, Mirius Fatsoon, says many people call to complain about security.
"The people worry about many issues, for example we don't have professional people in the army. If suicide bombers can blow themselves up in the Ministry of Defence in Kabul [as happened in April] how can the Afghan army possibly hope to establish security here?"
The founder of the radio station, Baryalai Helmand, puts it succinctly. "Two years back security was worse than it is now. But we don't feel secure."
In the three months between April and June this year, there were more than twice as many security incidents in Lashkar Gah as in the same three-month period last year, the BBC was told.
"The city itself is a thriving hub, an economy, with growing governance and security. Within Lashkar Gah city, there isn't even an insurgency but there is terrorism," says Lt Col Alistair Aitken, commanding officer of 4 Scots, The Highlanders, who are providing protection around Lashkar Gah.
Once protection of the city centre becomes the responsibility of the Afghan security forces later this week, the international community will begin preparing the rest of Helmand for a similar transition - and for sustaining the reconstruction effort.
Vast sums of foreign money have been spent on large infrastructure projects - roads, schools and health clinics being the most noticeable. The problem is finding the staff to run and maintain them.
In Musa Qala district in northern Helmand there are 14 schools but only four qualified teachers
Of the 44 health clinics that dot the province, only one has a female doctor
Only 22 of the thousands of police officers in the province are women
Last year just eight people from Helmand - which has a population of 1.4 million - went to university.
Down by the Helmand River, where people bathe and bicycles are cleaned, one young passionate man, Mohammad Noburishan, told me: "All the young generations are jobless. They are going to join the Taliban; they are going to mix with the terrorists.
"If you make good jobs, if you build factories, the young people will do their work and they won't have time for [such] useless works."
Helmand's Provincial Reconstruction Team (PRT) is aware of the challenges and is now turning its attention to fostering the private sector.
A vocational training college opened last month, funded by the Department for International Development, and there are plans to create an agri-business park near the airport.
Michael O'Neil, head of the PRT, says building a professional class is a key challenge.
"That capacity [of Afghans to deliver services] has a long way to go, there is still a lot more to do, but it's a big focus of our efforts, so that things are sustainable into the future."